Let's Get Started! Earn your pilot license with Leopard Aviation!
Click to call us at 1.833.FLY.KSDL (833.359.5735), click the button above or fill out the form below to get in touch with one of our Certified Flight Instructors.
Private Pilot License In Scottsdale, AZ
Start your journey in aviation by earning your Private Pilot  License with Leopard Aviation
Whether your goal is to fulfill a lifelong dream of learning to fly or you aspire to one of the many careers the world of aviation has to offer, your journey starts with the Private Pilot Certificate.
Earning your pilot license will be one of the most rewarding achievements of your life. Our mission is to turn your goals into reality in a fun and enjoyable atmosphere. We have brand new aircraft with state-of-the-art G1000 avionics, GFC700 autopilot, and ADS-B in and out for the added situational awareness and safety.
We train pilots under the FAA 14 CFR Part 61 program which allows you the flexibility to learn at a pace that fits your schedule.
Private Pilot License Requirements
Be at least 16 years old to solo.

Be at least 17 years old to earn a Private Pilot Certificate

Be able to read, write, speak and understand English.

Obtain at least a 3rd Class Medical Certificate.

Receive and log ground training from an authorized instructor.

Accumulate and log a specified amount of aeronautical experience from an authorized instructor.

Pass an FAA Written Knowledge Test.

Pass a Practical Test with an FAA examiner where your aeronautical knowledge and flying skills will be tested
What better place to learn to fly and earn your Private Pilot License than right here in Scottsdale, AZ!
Call us today at 1.833.FLY.KSDL or fill out the Let's Get Started form below to start your journey of becoming a pilot by earning your Private Pilot Licence!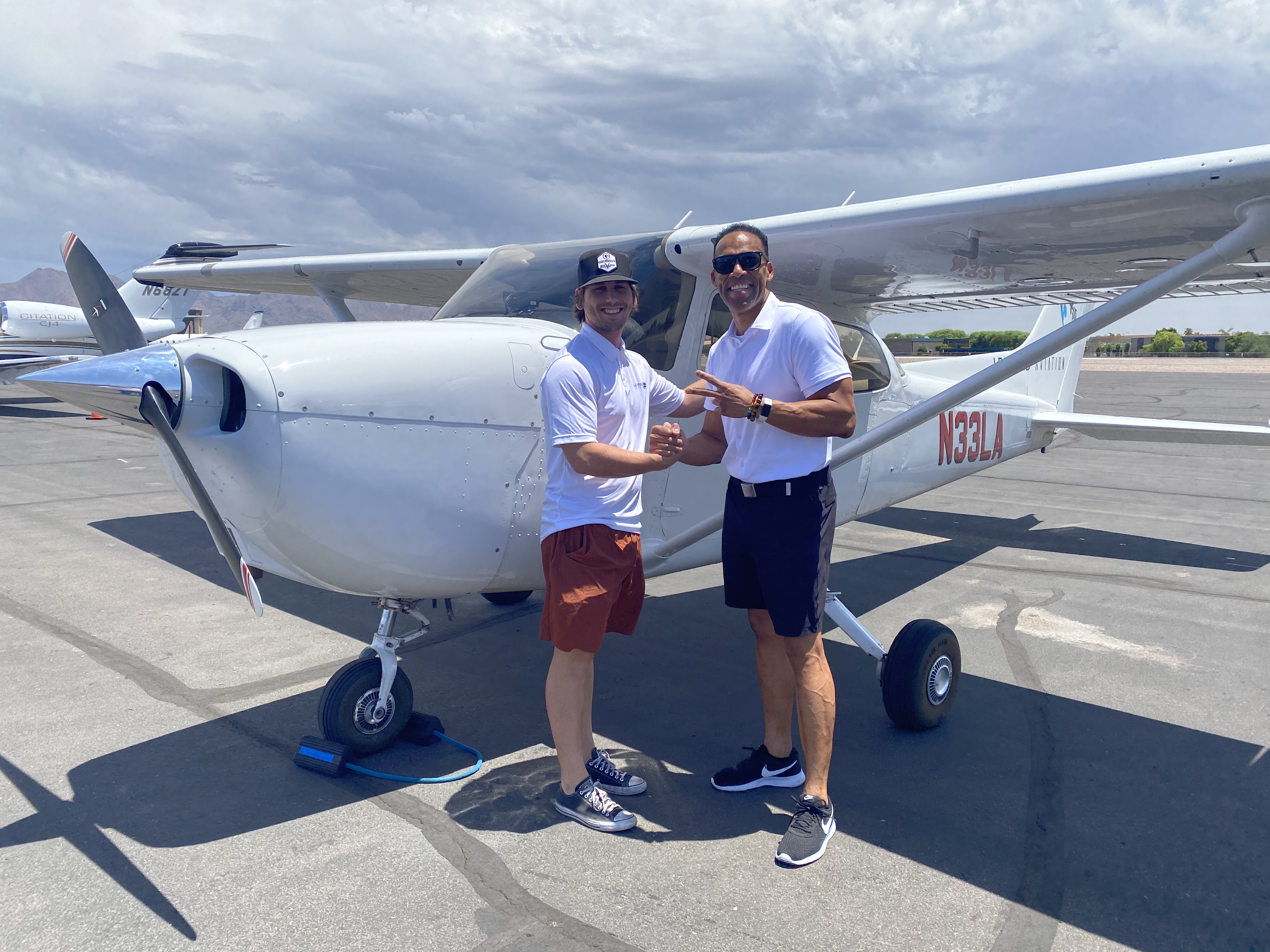 Road To Your Private Pilot License
Prepare for your first solo flight
Become proficient in the required private pilot maneuvers, airport navigation, take offs and landings, and radio calls
When you are ready, you will fly solo for the first time conducting 3 laps in the pattern - the first big milestone in the journey to your private pilot license
Cross country flight planning
Learn how to flight plan to distant airports, including getting a weather briefing, navigation techniques, and airplane performance considerations
First solo cross country flight
Using everything you've learned to this point, you will make your first cross country flight to an airport at least 50 NM away.  You are the pilot in command and you will prepare your flight plan, receive and analyze a weather briefing, and conduct your flight - the second big milestone in your journey
To this point you have learned everything you need to know to take your final exam with an FAA examiner.  You have mastered the private pilot maneuvers, take offs and landings, cross-country flight planning, and have been studying the various topics of aeronautical knowledge outlined in the Airman Certification Standards - Private Pilot.  Now its time to show a Designated Pilot Examiner (DPE) all of your aeronautical knowledge and experience - the final step in earning your private pilot license
Congratulations, you are now a PILOT!
Next step.. Instrument Rating!
[]
keyboard_arrow_leftPrevious
Nextkeyboard_arrow_right