Flight School in Scottsdale, AZ
Learn to Fly in Phoenix, AZ
Begin your journey toward your pilot license in Scottsdale today.  The valley is the #1 location for general aviation in the country because of the ability to fly year round and with so many great places within just an hour or two flight.  Learning to fly can be a life changing endeavor whether you require mobility for business or lifestyle reasons or if you want to fly as a career.  
Our goal at Leopard Aviation flight school is to provide the best flight instruction in the newest, safest, most technologically advanced training aircraft around. Our friendly flight instructors will tailor a training program to fit your needs and your schedule so you can accomplish your aviation goals as quickly as possible. We fly Cessna 172S Skyhawks with Garmin G1000 avionics.  The Skyhawk is one of the most forgiving airplanes to fly which makes it a pleasure to learn in.  Learning to fly can be a challenge which is why one of our guiding principles is "Flying is fun, learning to fly should be too."
Earn your pilot licenses and ratings with one of our experienced flight instructors here in Scottsdale, AZ. We are ready to teach you how to fly!
Certificates & Ratings We Offer:
If you are interested in flight training, come and check out the best flight school with the newest aircraft located at the Scottsdale Airport.
Call or Text Us Today:  1.833.FLY.KSDL (833) 359-5735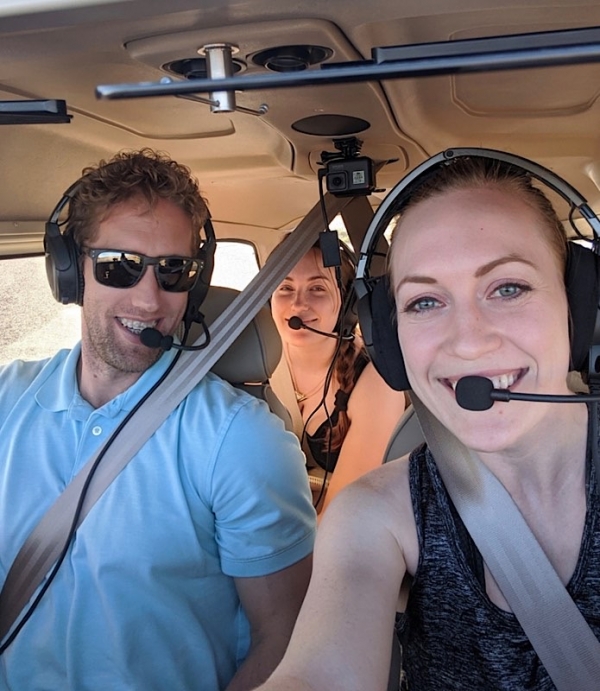 Learn to Fly in Phoenix
We are committed to providing you with a fun and professional training environment where you can see your flying dreams become reality.  One of our guiding philosophies is making sure your flight training is as enjoyable as possible. What that means to us is doing what is in the best interests of the student at all time.  We focus on being efficient with your time and resources, providing clear guidance and strategy to success, and reducing frustration and stresses that can develop with flight training. We believe anyone can learn to fly and that there are no bad students, only bad instructors.  That's why we take pride in our students' successes. Whether you are a weekend flyer or you have dreams of becoming an airline pilot, we are here to help.
Private Pilot Certificate
Aeronautical Experience Requirements
Log at least 40 hours flight time

20 hours dual instruction

10 solo flight hours
Aeronautical Experience Requirements
50 hours of cross-country as pilot in command

40 hours of simulated or actual instrument flight time

15 hours of simulated or actual instrument time with an instructor
Commercial Pilot Certificate
Aeronautical Experience Requirements
250 hours of total flight time

100 hours as pilot in command time
Certified Flight Instructor
Optional.  Becoming a CFI is a great way to earn the hours necessary to earn your Airline Transport Pilot certificate, but there are other ways.  Other options include flying corporate or charter, or various other jobs like ferrying airplanes, banner towing or flying scenic tours.  
Aeronautical Experience Requirements
1500 hours of total flight time

500 hours of cross-country flight time

100 hours of night flight time

75 hours of instrument flight time

250 hours acting as the pilot in command
We would love to teach you to fly
Call us today or simply stop by and say hello.  We love to talk about flying and aviation in general and are here to answer any questions you have about flight training or the world of aviation.
[]
keyboard_arrow_leftPrevious
Nextkeyboard_arrow_right